Products
Our products will leverage your business strength!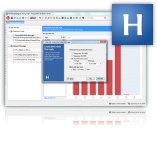 An overall solution for polyclinics
An integrated system to manage the polyclinics, support all medical operations as well as storing, searching Electronic Patient Records (EPR).
Hippocrate™ is a tailored solution just for polyclinics. Hippocrate™ is a multi-platform system with full of modules for every section or departments of polyclinics. Hippocrate™ is built step by step with real operation of polyclinics so it surely meet the needs of your clinics.
View more about Evolus Hippocrate™:

Overview | Main features | Deployment model

A cross-platform tool for managing civil profiles

GUI prototyping and sketching

Mobile calendar application for Vietnamese people